12 Day Tour - Tasmania
27febAll Day09mar12 Day Tour - TasmaniaAmazing Coastlines, Stunning Wilderness & Incredible History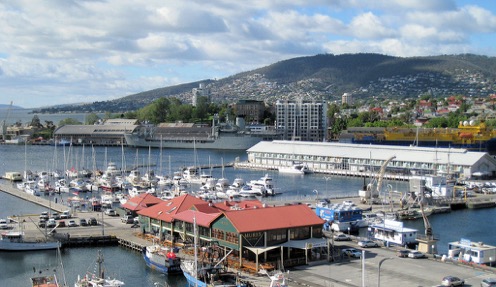 Event Details
Tasmania, The Apple Isle, The Southern State. Such an incredible place to visit, Priest's Coaches is going again. Join us as we journey across the Bass Strait aboard the Spirit of Tasmania. We spend 12 days exploring all around Tasmania, seeing all the wonders and meeting some incredible people along the way.
Day 1 (D) WAGGA WAGGA TO SPIRIT OF TASMANIA: Tuesday 27 February 2024                                 
Come and join Priests Coaches as we visit at Tasmania. It's a wonderful time of year to be heading to our most southerly state. Once everyone is onboard, off we head to the North Geelong terminal to join our Spirit of Tasmania cruise across to "the other side". Arriving with plenty of time to load the coach onto the cargo deck, we board and find our cabins. The cabins are very comfortable, with twin bed accommodation and ensuite bathroom. The facilities on the vessel are extensive with lounges, bars, shops and viewing areas. Dinner is served in the Tasmanian Marketplace Kitchen before retiring for the evening.
(Lunch at own cost, Dinner included onboard Spirt of Tasmania)
Spirit of Tasmania – Porthole Cabins
Day 2 (BLD) DEVONPORT TO LAUNCESTON:  Wednesday 28 February 2024                                          
On arrival in Devonport our coach is unloaded, and we head for breakfast at the nearby Argosy Motor Inn. Leaving Devonport, we now head to Sheffield and look at all the Murals before our first stop at the Ashgrove Cheeses Dairy Door. Here we can see how cheese is made and watch the cheesemakers in action. Next, we head to nearby Deloraine where we visit Yarns: Artwork in Silk. From here we travel into Launceston for a lovely buffet lunch. This afternoon we join Tamar River Cruises aboard the Lady Launceston and explore the Old Launceston Seaport before cruising to Kings Wharf. The highlight of the experience is cruising into the spectacular Cataract Gorge. View the sheer cliffs and cascades from our seats on this 1890's style vessel. We'll enjoy the skippers' captivating commentary on the history of this fascinating area.
(Breakfast on Spirit of Tasmania / lunch at Entally House / dinner in hotel)
Best Western Plus Launceston
Day 3 (BLD) TAMAR VALLEY: Thursday 29 February 2024                                                                        
This morning we head northeast to the town of Scottsdale, first surveyed in 1855 and described as "the best soil on the island, as well as being the regional centre for other northeast towns, it is a major agricultural centre. Mid-morning, we arrive at the Bridestowe Estate Lavender Farm where we enjoy a tour and morning tea. The lavender may have been harvested earlier in January however the farm is still well worth a visit. From here we travel to George Town and visit the Bass & Flinders Maritime Museum to look at the rich maritime history of this area and have lunch. This afternoon we cross the Batman Bridge and arrive in Beaconsfield for a visit to the Beaconsfield Gold Mine and Heritage Museum, home to Australia's only waterwheel-driven stamp battery, featuring an extensive collection of memorabilia and artefacts. Late afternoon return to Launceston.
(Breakfast & dinner in hotel / lunch at Bass & Flinders Maritime Museum)
Best Western Plus Launceston
Day 4 (BD) LAUNCESTON TO ORFORD: Friday 01 March 2024                                                                 
Departing Launceston, we journey down what was the finest highway in Australia in its day linking the two main cities of Tasmania – Launceston and Hobart. We head towards the coast and arrive on the East Coast of Tasmania and stop outside Bicheno at East Coast Natureworld for morning tea, followed by a tour. Set amongst 150-acres of natural coastal bushlands and lagoons our tour will take in some of Tasmania's unique wildlife. We look around Bicheno and purchase our lunch in town, then head to Swansea for our afternoon break at Kates Berry Farm, where we can sample some of the local produce for sale. From here it's just under an hour to Orford where we check into our hotel that looks out to Maria Island.
(Breakfast & dinner in hotel / lunch at own cost)
East Coaster Resort, Orford
Day 5 (BLD) PORT ARTHUR: Saturday 02 March 2024  
From Orford we head to Port Arthur, and on our way take a look at the unique natural formations of the Tessellated Pavement and Tasman Arch. The penal settlement of Port Arthur is a stark reminder of the harsh conditions endured by the earliest European inhabitants of this one-time island jail. The ruins are the greatest single tourist attraction in Tasmania and the place where up to 12,000 prisoners were kept in an atmosphere of hopelessness and misery. The first part of our tour involves time at the Visitor Interpretative Centre where we take a fascinating journey, retracing the life of a convict. We then take a guided walking tour through the Penal Settlement followed by a Harbour Cruise. From Port Arthur we now head to Hobart and settle into our accommodation for the next 2 nights.
(Breakfast & dinner in hotel / lunch at Port Arthur)
Wrest Point Hotel & Casino, Motor Inn rooms
Day 6 (BD) HOBART: Sunday 03 March 2024                                                                                             
Set between the towering peak of Mount Wellington and the Derwent River, Hobart is one of the most beautiful cities in the world. Sullivans Cove is lined with sandstone warehouses reflecting the area's rich maritime history. At Battery Point tiny cottages vie for space with grand mansions and Victorian terraces. We're joined on the coach for the morning by a local expert. He will share stories of Hobart's interesting past history and current changes. We have some free time to purchase lunch and this afternoon we visit The Cascades Female Factory, which was a self-contained, purpose-built institution intended to reform female convicts.  The inmates did laundry and needlework services, offsetting some of the colony's penal costs. Today, we have a heritage tour that gives an emotional depiction of the harsh life within the Cascades Female Factory in 1833.
(Breakfast & dinner in hotel / lunch at own cost).
Wrest Point Hotel & Casino, Motor Inn rooms
Day 7 (BLD) HOBART TO THE WEST COAST: Monday 04 March 2024                                                      
Fare-welling Hobart, we are off to the West Coast. The area to our immediate left is part of the huge Southwest National Park. At Derwent Bridge (the geographical centre of Tasmania) we stop to see the Wall in the Wilderness. The 'wall' is a work in progress and when finished will have an array of panels measuring 100 metres in length. In the reception area, there are many three-dimensional sculptures to view. We enjoy a late lunch at the Wilderness Hotel. This afternoon, we drive through the pristine wilderness of the Franklin Gordon Wild Rivers National Park, home to some of the state's most spectacular lakes and mountain areas. The steep drive into Queenstown shows mountains starting to regrow their vegetation after becoming bare and stained purple, grey and pink from sulphur fumes from mining processes. We check into our accommodation and unwind prior to dinner.
(Breakfast & dinner in hotel / lunch in Derwent Bridge)
West Coaster Motel, Queenstown
Day 8 (BLD) WEST COAST WILDERNESS: Tuesday 05 March 2024                                                           
This morning we join the Rack and Gorge Tour with West Coast Wilderness Railway. This half day tour sees us board the steam train in Queenstown. We begin a journey travelling along the original Mt Lyell Mining Railway, built on the edge of civilisation in 1896. Guides will bring the stories of the railway and the resilient people to life as we make our way along King River Gorge and through cool temperate rainforest. Upon return to Queenstown, we have some time to purchase lunch before our visit to the Eric Thomas Gallery Museum. Located within the heritage listed Empire Hotel that was built in 1887 of local bricks there are 30 themed rooms of historic significance. They tell the story survival, endurance, and sacrifice, as well as providing a very personal record of the people themselves and their lives.
(Breakfast & dinner in hotel / picnic lunch included at the end of train trip)
West Coaster Motel, Queenstown
Day 9 (BLD) GORDON RIVER CRUISES: Wednesday 06 March 2024                                                         
Today we join a cruise on the Gordon River and head across Macquarie Harbour. It is a vast body of water that measures six times the size of Sydney Harbour. First navigated by Captain James Kelly and four companions in 1815. These wild and remote waters offer the only safe harbour on Tasmania's west coast.  We'll visit Sarah Island, once known as "hell on earth" as Tasmania's first and most brutal penal settlement. We'll hear about the points of interest including the Huon Pines found in this area, commonly known to live for 2000 years. Then, we return to Queenstown to relax before dinner.
(Breakfast & dinner in hotel / lunch on cruise)
West Coaster Motel, Queenstown
Day 10 (BD) CRADLE MOUNTAIN: Thursday 07 March 2024                                                                    
We leave Queenstown and travel north through the mineral rich mountains. Crossing the Vale of Belvoir and alpine cattle country to reach the jagged contours of Cradle Mountain National Park. At the Transit Station, we join local touring company McDermotts who will take us into the National Park on a 90 minute tour. We will visit Dove Lake – a beautiful glacial lake situated at the base of Cradle Mountain. We have some free time to purchase lunch after our tour at the Cradle Mountain Visitor Centre café. Next, we head to Burnie and stop at the Burnie Regional Museum to see the Federation Street exhibit. Finally, we arrive at our hotel for the last night on the Apple Isle.
(Breakfast & dinner in hotel / lunch at own expense in Cradle Mountain)
Beachfront Voyager Motor Inn, Burnie
Day 11 (BD) SMITHTON TO THE SPIRIT OF TASMANIA: Friday 08 March 2024                                       
This morning, we head to Stanley and the Northwestern coastline of Tasmania. While in Stanley, we head to Highfield Historic Site for a self-guided tour of the mansion. Built from 1832 to 1835 as a residence for the chief agent of the Van Diemens Land Company, Edward Curr. With outstanding views of Stanley and The Nut, it is hard to believe this area was once a convict enclave. Before leaving town, we have some free time to take a ride on the chairlift to the Summit of The Nut. We now head to Wynyard, for some free time to purchase lunch, before arriving in Devonport. Here, we enjoy a ride on the Don River Railway, one of Australia's finest heritage passenger carrying railways. Our final visit for the day is to the Bass Strait Maritime Centre. Next, we head for dinner before boarding the Spirit of Tasmania.
(Breakfast in hotel / lunch at own expense and dinner at Argossy Motor Inn)
Spirit of Tasmania – Porthole Cabins
Day 12 (B) MELBOURNE TO WAGGA WAGGA: Saturday 09 March 2024                                                
Arriving in Geelong this morning, we re-load the coach and before we begin our journey back to Wagga Wagga we head for breakfast in nearby Werribee. Heading for home, we bid farewell to our group and coach captain having had a wonderful adventure to Tasmania.
(Breakfast included this morning & lunch at own cost).
Tour Cost (GST inclusive)
$4450.00 per person (twin/double share)
$  825.00 single supplement
For more information, or to book your ticket, please –

CONTACT US
All itineraries are subject to change due to occasional restrictions in opening times/days of some attractions, e.g. churches, wineries. We cannot be held responsible for any changes due to closures, inclement weather.
Time

February 27 (Tuesday) - March 9 (Saturday)